SCHEDULE
| Rounds | Start date | End date |
| --- | --- | --- |
| Orientation | 24-03-2022 | 24-03-2022 |
| Trial debates | 28-03-2022 | 28-03-2022 |
| Skirmish 1 | 29-03-2022 | 31-03-2022 |
| Skirmish 2 | 01-04-2022 | 04-04-2022 |
| Skirmish 3 | 05-04-2022 | 07-04-2022 |
| Combat (2) | 08-04-2022 | 09-04-2022 |
| Confrontation | 11-04-2022 | 11-04-2022 |
| Face Off | 12-04-2022 | 12-04-2022 |
1. Fill in registration form signed by student.
2. Soft copy of Student ID Proof from institution
3. Soft copy of latest passport size photo
4. Details of Registration payment of Rs.500/- made (soft copy of Payment report, reference no. etc )
5. Participation fee can be paid
to the bank details given below : Name : Verbattle
Bank : Bank of Baroda
Account No : 07640200003423
Type : Current account
IFSC Code : BARB0JAYANA
Branch : Bank of Baroda, Jayanagar 3rd Block, Bengaluru
MICR Code : 560012010
(OR)
6. All above details to be submitted to respective institutions. Institution to consolidate and submit registration of total participants to events@verbattle.com
7. Registration fees will not be refunded under any circumstances. Please refer last page of registration form for event rules.
8. Detailed instructions will be conveyed to the registered students before the Competition.
1. Good and bad are just words of convenience.
2. We live in a world of cliches.
3. Gender equality is a utopian idea.
4. The Indian Psyche does not patronize any kind of dictatorship.
5. Nobody can ever know the exact state of Indian economy.
6. AI is another technological fad.
7. There is no need of science in everyday life.
8. Governments use the media to control citizens' political behaviour.
9. The youth should avoid being fed stories of the lifestyles of super rich people.
10. Religion thrives in an imperfect world.
11. Institutionalized corruption is an inescapable reality in India.
12. Only a woman can be a mother.
13. The business of news is going bankrupt.
14. Youth should be involved in at least some political activism.
15. Public conduct is more important than personal liberty.
16. Too much of history is too bad.
17. The present day world appears to be designed, to make the youth unemotional.
18. Intolerance results from immaturity.
19. Education is an over hyped activity.
20. All natural resources must be nationalised.
21. Romantic relationship is not every youth's cup of tea.
22. Nations are built on stories.
23. It is easier to hate than to love.
24. History is India's burden.
25. Women are naturally inclusive in thought and approach.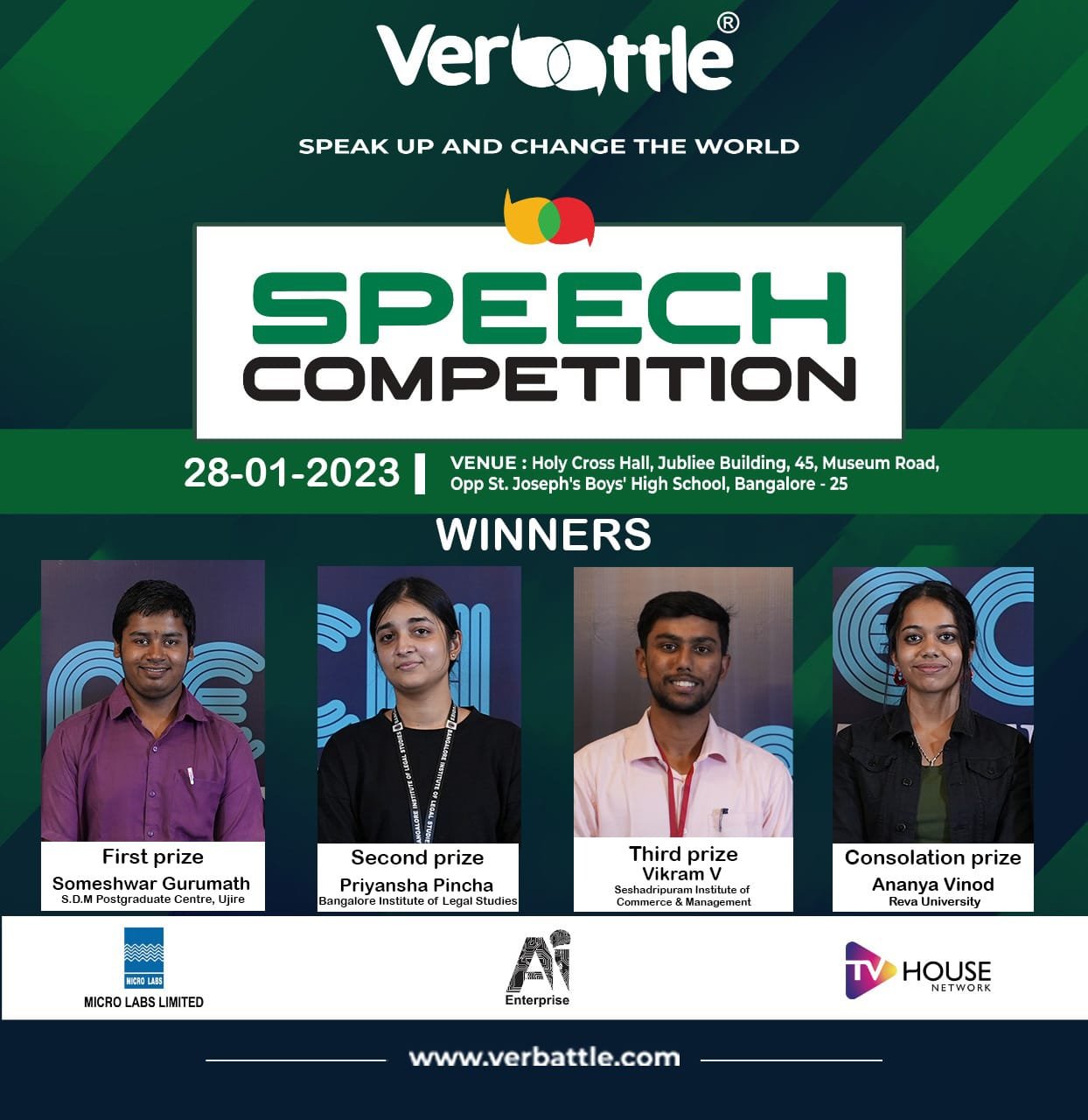 Holy Cross Hall,
45, Museum Road, Jubliee Building,
Near Post Office,
Ashok Nagar,
Bengaluru 560025
Ph: 09886464641